Become a Member or Renew,
SACRAMENTO AREA BEEKEEPERS ASSOCIATION

Joining SABA will help hobbyist beekeepers and the public become more aware of the importance of the bee culture in the Sacramento area.
2017 Member



ship Application
To become a member or to renew, please pay online via SignUp Genius using the link below, join at a meeting, or
fill out the mail-in application
.
PRIVACY NOTICE: A list containing name, city, zip code, e-mail address, and phone number is provided to members. If you believe you have paid your membership dues but are not receiving the Bee Line newsletter which is delivered only via email, please
email
your inquiry to
sabaecom@gmail.com
.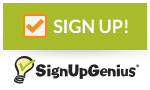 ---
Upcoming Meetings
Third Tuesday of each month. See Meetings/Events page for presentation speaker and/or topic.
Sacramento County UC Cooperative Extension,

4145 Branch Center Road